FlexShelf Modular Storage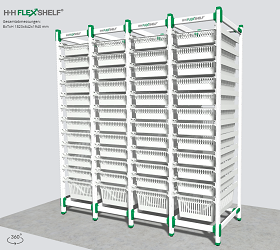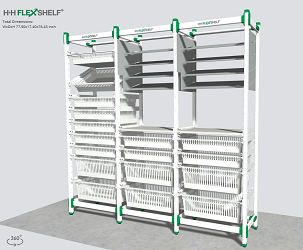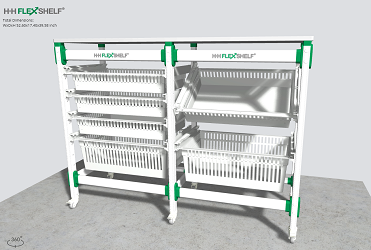 The FlexShelf system allows versatility and flexibility for your hospital pharmacy. We can increase your space utilization by up to 30%!
H+H Systems innovative, high-quality aluminum product is a flexible system that expands easily to different widths and depths. Combined with a wide range of accessories, this is a versatile storage system that satisfies all requirements.
The flexible shelf system is designed according to the add-on principle. Start with the base unit and add any number of extensions to it – now or later.
Create the optimum storage system for your pharmacy, no matter how complex your needs are: choose from two standard depths, various heights, and a variety of widths. 
The H+H FlexShelf can be assembled from scratch in any way you please, thus creating a multi-functional workstation.
Other features:
Entirely compatible with our modular tray system
Shelves at varying heights
Slides that can straight pullout, tilt down or pass through
Drawers with dividers
Castors for mobility
Lets sit down and design a system for you! Contact us 1.833.TSDS.USA or sales@tsdsusa.com.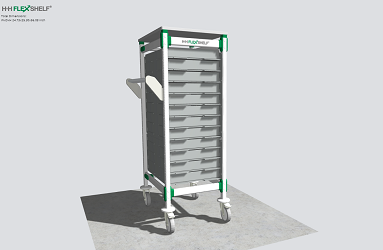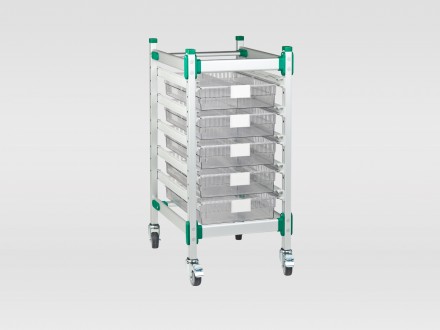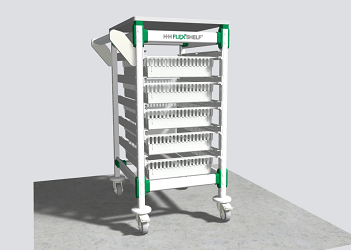 H+H Systems intelligent and flexible solutions satisfy all requirements, such as preparing, storing and transporting.
Sturdy castors, 3 inch or 5 inch available, can support the transport of modular trays and medication trays to the  hospital floor.
Comfortable handles move our mobile stations easily.
Doors and locks available to secure medications and prevent loss.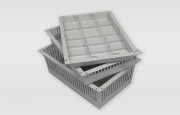 H+H SYSTEM's FlexModul® in ISO format is the product of choice where highest demands are placed on flexibility, efficiency and quality. By combining trays and baskets into one, H+H SYSTEM has not only achieved this objective but has also created the best possible flexibility. The innovation resulted in an opitimal, low weight, and leak proof storage system. The marketed cross-recess dividers may be secured to the modules using the ClipOn-effect. They may be secured so firmly that the partitions will with-stand highest lateral loads without them being forced out of their positions. The added benefit results in simple and quick adjustment (half inch or inch). When used in combination with the sliding dividers, the greatest possible space savings and highest efficiencies are achieved.
Smooth walls for greater hygiene 
Fixed tray and divider positioning (ClipOn-effect) 
Partitions are adapted to stored products
Bay width may be adjusted every half inch or inch
Additional lettering or company logo possible 
Low weight 
Stackable
Single-part stop system for pull-out of trays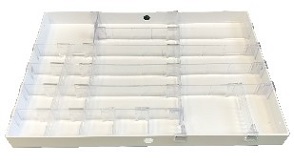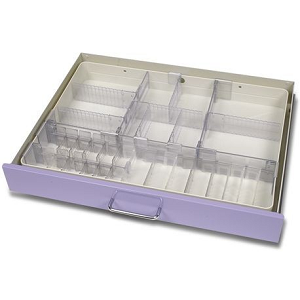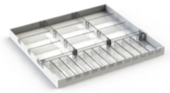 Trays are an essential part in the organization of cart. Standard size trays fit the majority of carts and can be customized to organize your medications. Color options are available on all trays and this feature is ideal for organization of trays per hospital department or function.
White – ideal for emergency, anesthesia, OR, and other carts
Red – ideal for adult crash carts
Blue – ideal for pediatric crash carts
Molded trays for most carts are in stock
Customized with any flexible divider set-up
We can supply on your medication trays based on your dimensions and divider configuration. 
We carry replacement trays for Pyxis, Armstrong and Omnicell.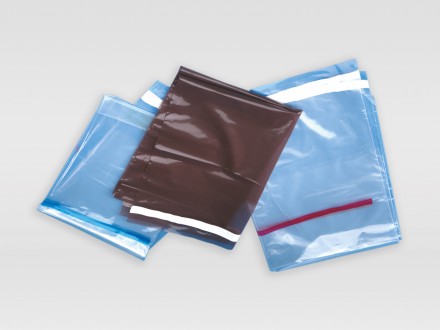 Secure your medication trays with out Security bags.
Locks and seals available.
Bulk quantities are available.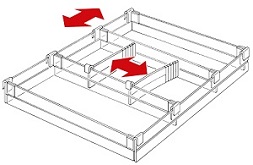 The divider kits (inserts) of H+H SYSTEM are tailored to the individual needs and made ​​to measure. The space-saving flexible dividing of drugs, ampoules, dressing materials and small parts of all kinds, provides maximum organization in the trolleys. The flexible divider allows for simple and rapid adopting and therefore resulting in an intelligent response to the ever-changing space requirements. It takes one touch to remove the kit, making it easy to clean.
Removable

 

in one piece

Made to measure

Hygienic cleaning

Perfect overview

Flexible dividing

Easy handling

Labeling option

A place for everything, and everything in its place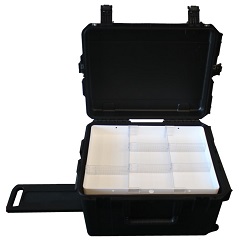 For carrying small a number of trays quickly. Holds 4 standard trays.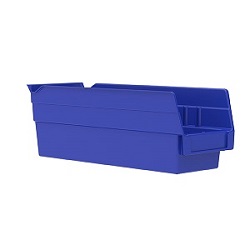 For organizing your shelves. Available in multiple colors and dimensions.